CITY HALL
The City of Plankinton conducts the business of city government at Plankinton City Hall, located at 102 S Main St in Plankinton. Residents of the community are represented by a mayor/council form of government, with the town divided geographically into wards.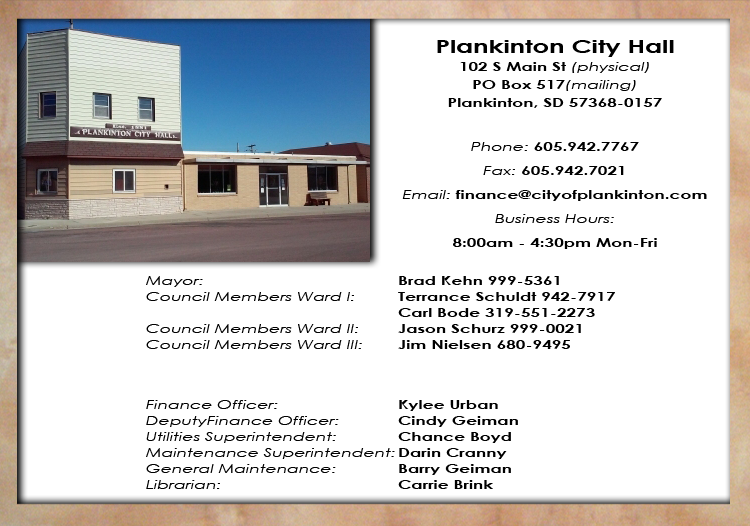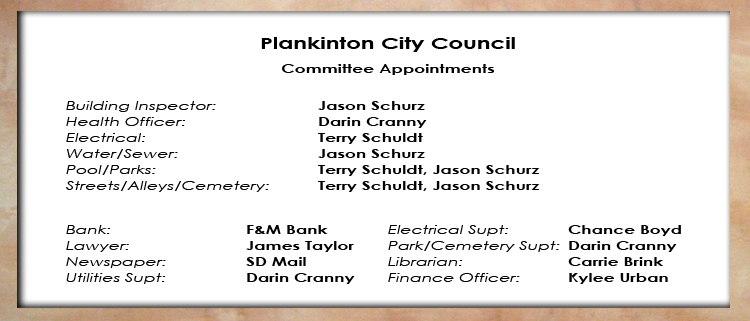 The Plankinton City Council meets the first Monday of each month at 6:30pm in City Hall. Meetings that fall on holidays are moved to Tuesday evening at 6:30pm. Members of the public are encouraged to attend. Please schedule with City Hall at 605.942.7767 prior to the meeting if you would like to speak and be added to the agenda.
City Finance Officer, Kylee Urban, manages the daily business of Plankinton City Hall. Utilities Superintendent, Chance Boyd and Maintenance Superintendent, Darin Cranny, manage city infrastructure development and maintenance, including electrical, streets and water utilities. Plankinton offers one of the lowest electrical rates in South Dakota through use of an innovative energy management system.
Other services provided by City Hall include:
Electric & Water Utilities - Services & Payments
Building Permits and Inspections
Dog Tags
Liquor Licenses
Cemetery Plot Sales
Ordinances, Zoning and Building Codes
Record Archives from 1881
Plankinton recently completed the underground utilities infrastructure to support citywide distribution from our new and beautiful tall water tower. Our community is proud of being selected as a former South Dakota Community of the Year in the Small Community category. Much hard work and teamwork among community members resulted in this exciting award. Please visit Plankinton and see for yourself what our progress is all about!
Follow us on Facebook for more information about our outstanding community!