PLANKINTON PRESERVATION SOCIETY
Sweep-VanDyke Railroad Museum & Cultural Center
A restoration under the auspices of the Plankinton Preservation Society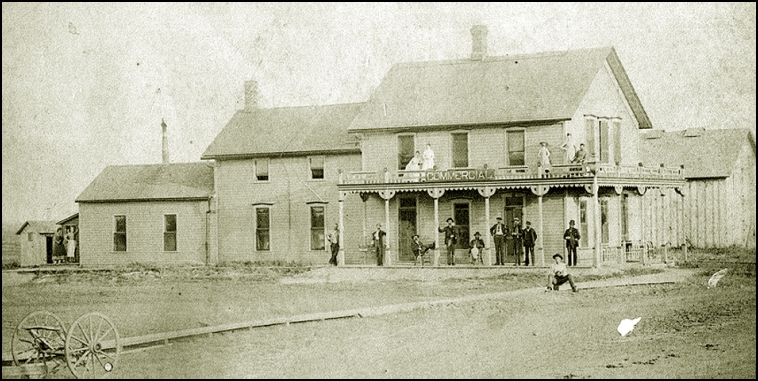 Early Commercial House photo circa 1890
Take a walk back in time...to the early 1880s when Dakota Territory saw homesteaders coming to the great open prairie, breaking sod in search of a new start...a new beginning...a new life. The railroad was the lifeline for this burgeoning land, bringing with it pioneers, their belongings and hope.
One of Plankinton's earliest buildings was the Commercial House Hotel, a grand structure, residing just east and south of the railroad tracks. This hotel became an oasis for railroad passengers and traveling men. In 1906 George and Ella Sweep purchased the hotel. Ella's hospitality of fine meals and cleanliness became known far and wide. After her husband passed away in 1914, Ella sold the hotel in 1920.
There have been many owners since, with one of the longest tenures belonging to Bert and Barbara Van Dyke. In later years the building fell into disrepair and neglect.
On July 14th, 2004, the Plankinton Preservation Society, Inc. purchased the landmark building with the dream of restoring it to its former glory. With matching Enhancement Grant funding from the state Department of Transportation, sponsorship from the City of Plankinton, and other grant and private funding, it is now becoming a reality.
For historic integrity the Sweep Hotel has been named to the National Register of Historic Places with assistance from the South Dakota State Historical Society.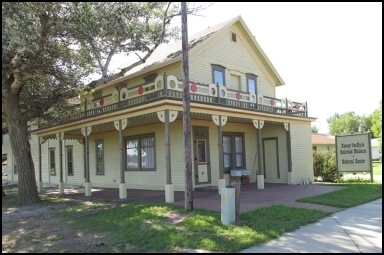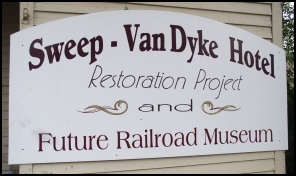 Future plans include creating a railroad museum, visitor center, and cultural heritage center. How can you help restore a historical Plankinton landmark? All donations are tax-deductible and can be made to:
Plankinton Preservation Society, Inc. P.O. Box 367, Plankinton, South Dakota 57368.
For more information, please contact:
John Paul Studeny Jr. or Gayle Van Genderen at 605-942-7153 or 605-942-7770.
Donations of your time and talents and needed restoration items are gratefully accepted. Your stories of the hotel are treasures too. Please send them to P.O. Box 367, Plankinton, SD 57368.
Clockwise from lower left: Grand staircase, room transom, long narrow hallway, lobby ceiling
Mailing Address:
Plankinton Preservation Society, Inc., P.O. Box 367, Plankinton, SD 57368-0367
Phone 605-942-7153 or 605-942-7770
E-Mail sdmail@siouxvalley.net
Follow us on Facebook for more information about our outstanding community!